Christmas with Random Acts: Pay it Forward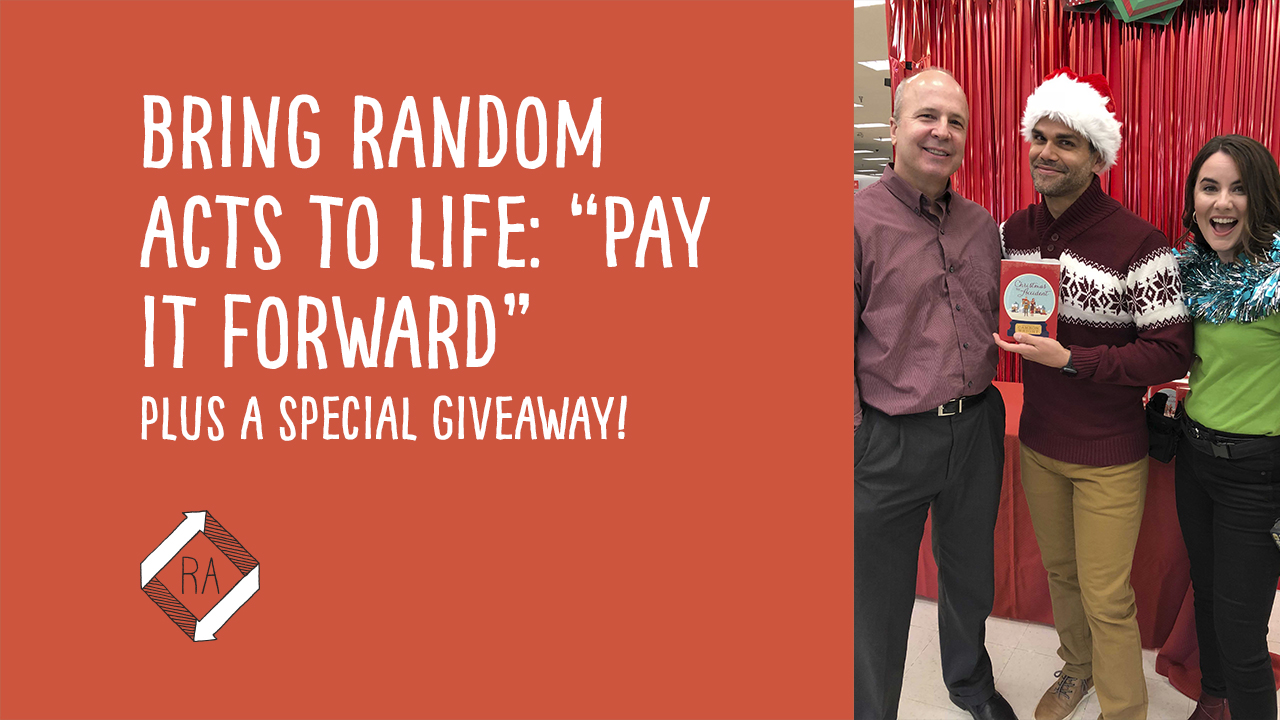 Celebrating the Season of Giving
Christmas is almost here and you better believe Random Acts is soaking up every second of this season of giving.
To celebrate this special time of year, we're sharing our latest random act, giving you three ideas on ways to serve others, and hosting a giveaway! Keep scrolling for a giving overload (the best type of overload).
Pay it Forward
In our newest act of kindness "Pay it Forward," we teamed up with author Camron Wright and headed to Shopko to surprise some shoppers.
But in true Random Acts fashion, there's more up our sleeve than you might think!
Here's how YOU can do this Random Act!
Doing a random act is simple, but thinking of the perfect random act can be challenging! So, using "Pay it Forward" as our inspiration, we put together a list of three random acts that you can do at home!
Have some dollars you can spare? Maybe even some spare change? Grab your money and head to the nearest store! Find someone to give your money to and be sure to wish them a Merry Christmas!
Do you have a present from last Christmas that you don't use very often anymore? Pay it forward and give that gift to someone else in need this year! They'll love it as much as you did when you first got it.
Put a halt on the hustle and bustle of the season and read a book with someone you love. If you're looking for a heartwarming Christmas book, we recommend this one!
Remember, don't just watch Random Acts, DO random acts!
Random Acts Giveaway
To keep the theme of "giving" going, we're giving you the chance to win the book "Christmas on Accident." (Psst! It is the book featured in our latest Random Act segment above!)
We asked Camron Wright, author of the book, about why it's a great read for the holidays, and he said this:
"Christmas by Accident reminds us that Christmas is a choice. It's a time where we can make a conscious decision to share more, to forgive more easily, to remember with awe the blessings that surround us—and to show greater love. Ultimately, my hope is that this story will remind the reader (with a bit of humor) that it's the people around us—friends, family, and loved ones—who are most important."
Here are three ways to enter the giveaway:
Retweet THIS POST on the Random Acts Twitter:
RT for the chance to win a signed copy of #ChristmasByAccident by @AuthorCamronW! In this funny #Christmas novel, two very different people learn the true meaning of the holidays! (Watch our fun segment with Camron here: https://t.co/WBm7uA07Nu) 🎄❤️ #GiveMore pic.twitter.com/RBVy36MOFy

— Random Acts (@RandomActs_TV) December 14, 2018
Like THIS POST on the Random Acts Instagram:
Like THIS POST on the Random Acts Facebook page:
Good luck and Merry Christmas from all of us at Random Acts! We hope you enjoy this season of giving with your loved ones.