A Travel Guide with Eric Dowdle: Park City
Park City Makes Its Debut in This Week's Travel Guide!
Last night, we joined Eric Dowdle as he explored the charm of Utah's world-class ski-town, Park City, in Painting the Town with Eric Dowdle!
After soaring through the sky in a hot air balloon and riding down the 2002 Olympic bob sled track, Eric is excited to share his tips on navigating the peaks of Park City. So we teamed up with him to create an all-inclusive travel guide of Park City's historic wonders!
If a trip to Park City's mountain paradise sounds like the getaway for you, this travel guide will be just what you need to help you discover the gorgeous views and exhilarating activities this town has to offer!
Famous Landmarks Worth Giving A Visit:
Alf Engen Ski Museum (3419 Olympic Parkway, Park City, UT, 84098) Founded by ski-enthusiasts during the 2002 Salt Lake City Winter Olympics, this museum celebrates Utah's history as a winter sports capital of the world by providing authentic Olympic experiences.
Deer Valley Mountain Biking (P.O. Box 1525, 2250 Deer Valley Drive South, Park City, UT 84060) Recognized by the International Mountain Biking Association as the world's first Gold Level Ride Center, Park City's 450-mile stretch of biking trails rivals some of the best trails in the world. Choose from paths ranging from beginner to advanced for a thrill ride with phenomenal views.
Park City Balloon Adventures (PO Box 1344, Park City, UT 84060) This family-owned business is the oldest of its kind in Park City, offering scenic hot air balloon rides through the skies of northern Utah.
Park City Museum on Main Street (528 Main St, Park City, UT 84060) Open since 1984, Main Street's museum features engaging historical exhibits and even allows you to tour what was once the town's basement jail. Rates range from $5–12 per person.
Winter Olympic Training Park (3419 Olympic Pkwy, Park City, UT 84098) Once serving as the locale where thousands of athletes, fans, and media outlets gathered for the 2002 Olympic Games, the Park now offers bobsled and nordic track rides, exhibits, and more to give the public a taste of what it's like to participate in Olympic events!
Best-Kept Secret of the Town:
One of Park City's major attractions is its incredible scenery. What most people overlook, though, is the chance to snap a perfect photo just before sunrise in Park City's prime mountain locations, such as Silver Lake Flat Reservoir. After experiencing the breathtaking natural landscape with world-famous photographer Willie Holdman, Eric agrees that views like these just can't be beat.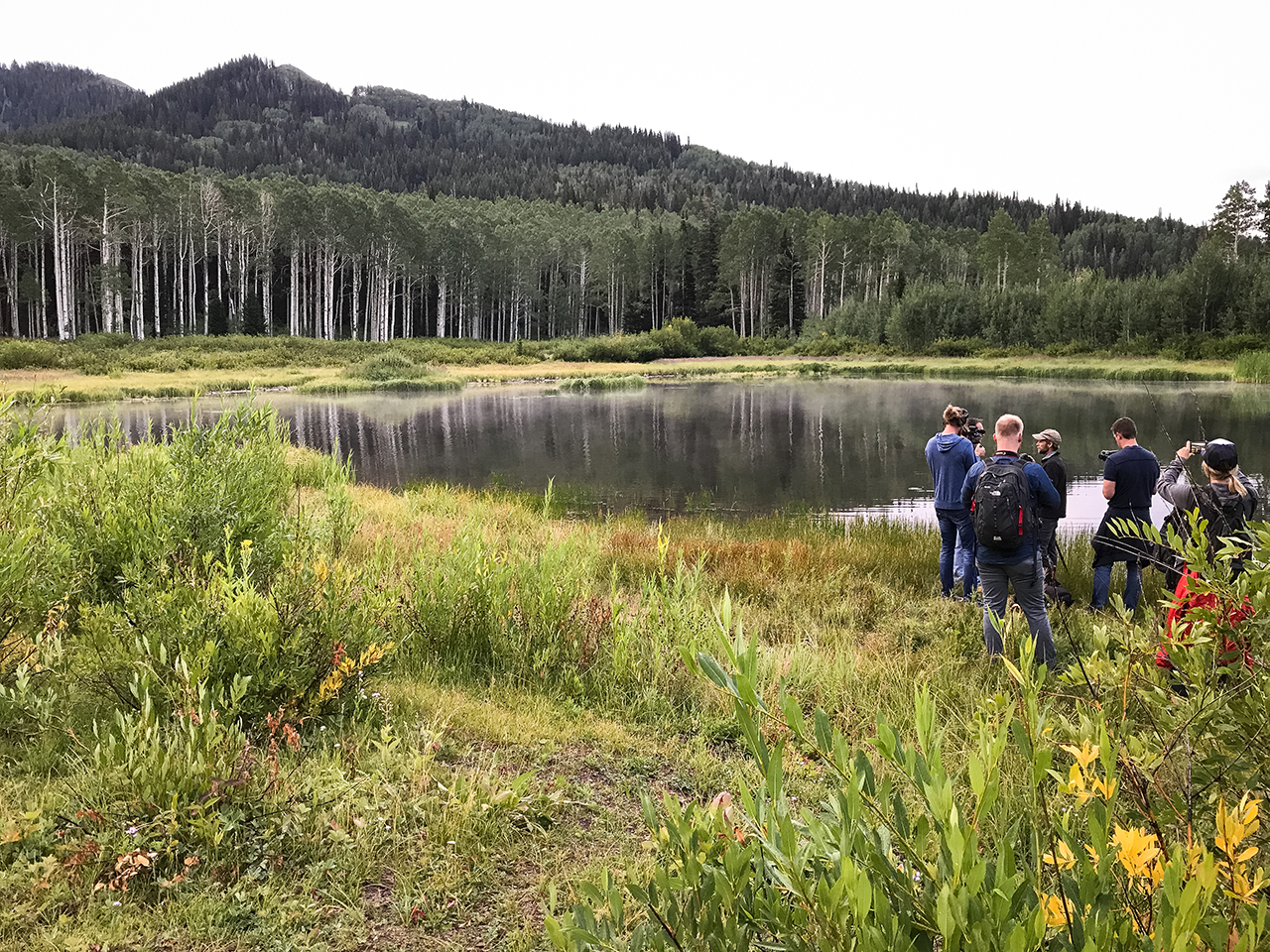 Silver Lake Flat Reservoir (Silver Lake Dr, Park City, UT 84060)
Eric: I love his (Willie Holdman's) statement: "The pain will go away, but the photograph will last forever."
Eric's Favorite Places to Eat:
It wouldn't be a true Painting the Town experience if Eric didn't snag some delicious grub along the way. Check out Eric's favorites!
Ritual Chocolate (6598 Landmark Dr, Park City, UT)
You know what they say—the higher the altitude, the better the chocolate—and Park City certainly isn't lacking in altitude. Ritual chocolate lets the natural, complex flavors of its chocolate do all the talking, which makes for a truly mouthwatering mountain snack.
Riverhorse on Main (540 Main Street, Park City, UT 84060) Known as one of Park City's oldest and most eminent restaurants, Riverhorse on Main presents tasty menu items ranging from tender wild game with huckleberry to fresh shucked oysters.
The "Park City" Painting
Park City didn't disappoint when it came to providing picture-perfect scenes to inspire Eric's newest masterpiece. Take a look at Eric's fresh take on Park City life in his painting!
Painting the Town with Eric Dowdle
Be sure to tune in to BYUtv every Tuesday night at 8:30pm MT for new episodes of Painting the Town with Eric Dowdle!