Making Good Season 2: Sing with Kirby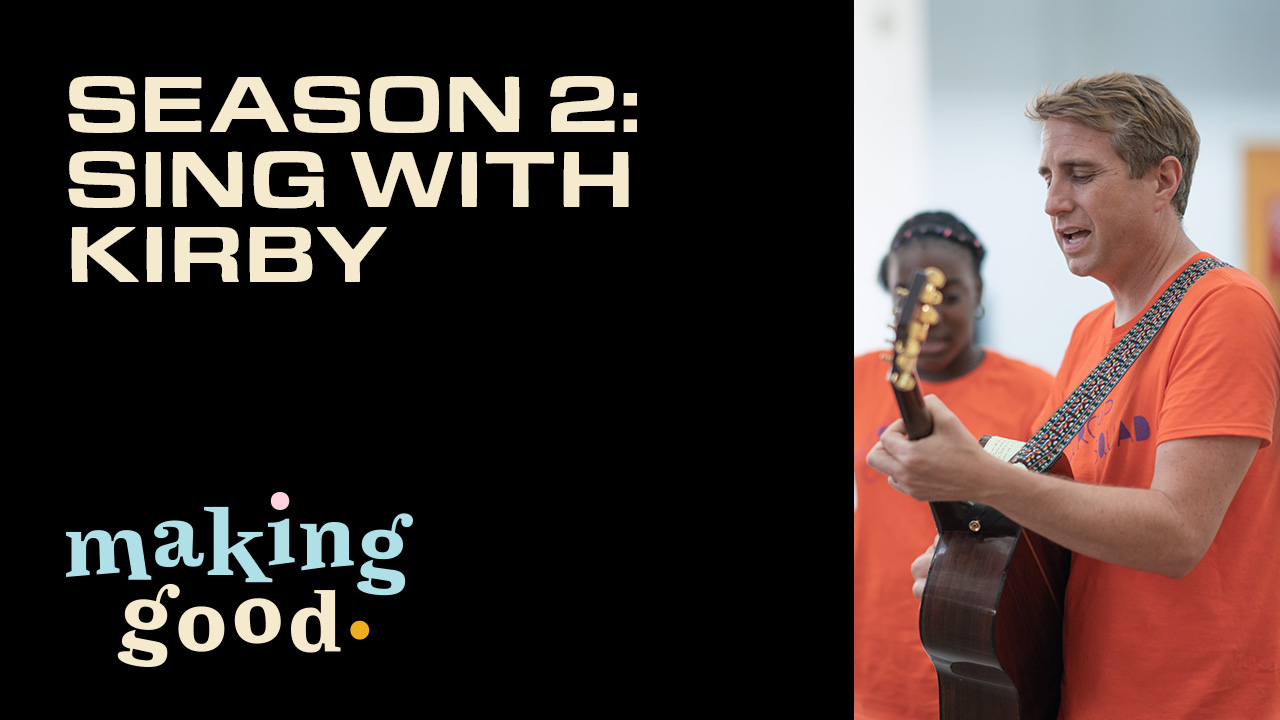 Sing Along with Kirby Heyborne
We know you've been waiting for it, so let's hear you cheer loud and proud—it's another season sing with Kirby!
Making Good just wouldn't be the same if Kirby Heyborne wasn't making music every episode, and our days just wouldn't be as sweet if we didn't get to sing along with him.
So grab a fake microphone and get ready to warble like there's no tomorrow with a whole new set of sing-along songs from Making Good Season 2!
Scroll down to see this week's song.
"Let the Storm Water Come"
Deep roots help us stand strong, no matter what comes. Kirby's song for Soul shows how to survive even the deepest storm water.
"A Slice of Heaven"
There are things in life even sweeter than sugar, and this song for Icing Smiles celebrates the sweetest thing of all.
"You Take Me by the Hand"
This song from Kirby's experience with GlamourGals will make you want to spend the day with someone you love.
"Back on the Road"
After his time with Cars that Care, Kirby celebrates all those who work to help us get back on the road again.
"I Can Dream"
With No Limits for Deaf Kids, Kirby met dozens of kids who were overcoming challenges to reach their dreams. This song was written for all those parents, teachers, and helpers who love them.
"We're All a Family"
Kirby takes his music to Wild West Wildlife and learns that animals and people of all different types can get along together. So he wrote a song about it!
"Together"
Kirby and two young CoachArt friends wrote this song to celebrate someone very special. Give it a listen and see who you would say it's for in your own life.
"Come Join the Show"
Kirby turns circus performer with The Trenton Circus Squad. But no matter what trick he tries, this song shows there's always someone who has his back.
"Never Say Never"
After his time at Island Dolphin Care, Kirby wrote this song to honor all those who keep trying no matter what life throws at them.
"Don't Give Up the Fight"
For the first time in Making Good, Kirby says, the song he'd written didn't feel right. But wait until you hear the song he writes for The Bloc after that realization.
Watch Making Good
It's time to make some good in your day! Catch the feel-good vibes by watching Making Good on demand right HERE. Season 2 is just getting started, and you won't want to miss what's coming!