Studio C Season 10: Getting to Know Jetta
Meet Jetta
You've already met April, Arvin, Austin, Dalton, Garet, Ike, and Jessica from Studio C Season 10—now meet Jetta Juriansz!
Trust us when we say you'll love this curry-loving, pattern-wearing, ukulele-playing cast member.
Name: Jetta Ann Njaa Juriansz, but you can call me Jetta!
Birthday: April 8th, 1994
Where you're from: Scottsdale, Arizona.
—Baby Jetta. My mom says I didn't cry much, but I did eat LOTS.
The last book you read: The Last Girlfriend on Earth: And Other Love Stories by Simon Rich
If you could be any character in a movie, it would be: Spot in "Newsies" for so many reasons. Singing! Dancing! Comfortable pants! (But I'd be lying—I didn't admit the biggest reason is cute boys)
The color you wear the most is: Probably patterns! (And probably patterns that shouldn't go together)
—Me: On a diet. Also me: Dives into a pool of candy.
Your favorite memory with a cast member is: The first week of writing, Tori and I got to work together on two sketches. Within the first 5 minutes, we were snort-laughing in a corner over each other's jokes. And I'm happy to say the snorts haven't subsided!
Name 5 things you do in your free time: Dance, anything outdoors and in the sun, force my friends to listen to ABBA, cooking, and face masks with April (see Instagram for reference)
The one food you could eat every day for the rest of your life is: Curry. For breakfast, lunch, dinner, and dessert.
—Playing the ukulele at one of my shows in LA! (p.s. My ukulele's name is Blanch)
What type of shoe describes your personality and why? Heelys. Because I'm tacky, impractical, usually covered in glitter, and I peaked in 2007.
Tell us about your most memorable first (first kiss, first day of school, first comedy show, etc.): Ooooooooof, my first kiss was in front of my entire school at a football game with a boy named Jeff. And then he tried to hold my hand. Jeff, if you're reading this, I'm sorry my hand was so sweaty.
You memorize your lines for a sketch by: By talking to myself in the car. I'M NOT CRAZY. I'M AN ARTIST, MOM.
—Me, my sisters, and my mama in matching purple wigs! The day after this photo was taken was the day I officially found out about Studio C.
Where were you when you found out you made the Studio C cast? I was with my family at a cabin in Colorado. I cried and got lots of hugs from my sisters and Mama. :)
What are you most excited for in Season 10? I can't wait to share these sketches with the incredible fans. Everyone has been SO wonderful and supportive. I feel like a little kid with a macaroni necklace on "show and tell" day. I wanna show the world my macaroni necklace!!! (And I just hope the fans of the show enjoy watching the sketches as much as we enjoyed making them.)
The one piece of advice you'd give to Studio C fans is: Show the world your sunshine. Give love and warmth freely.
—A self-portrait
Watch Season 10 of Studio C
Episode 3 comes out tonight! Watch the first episode of the season HERE.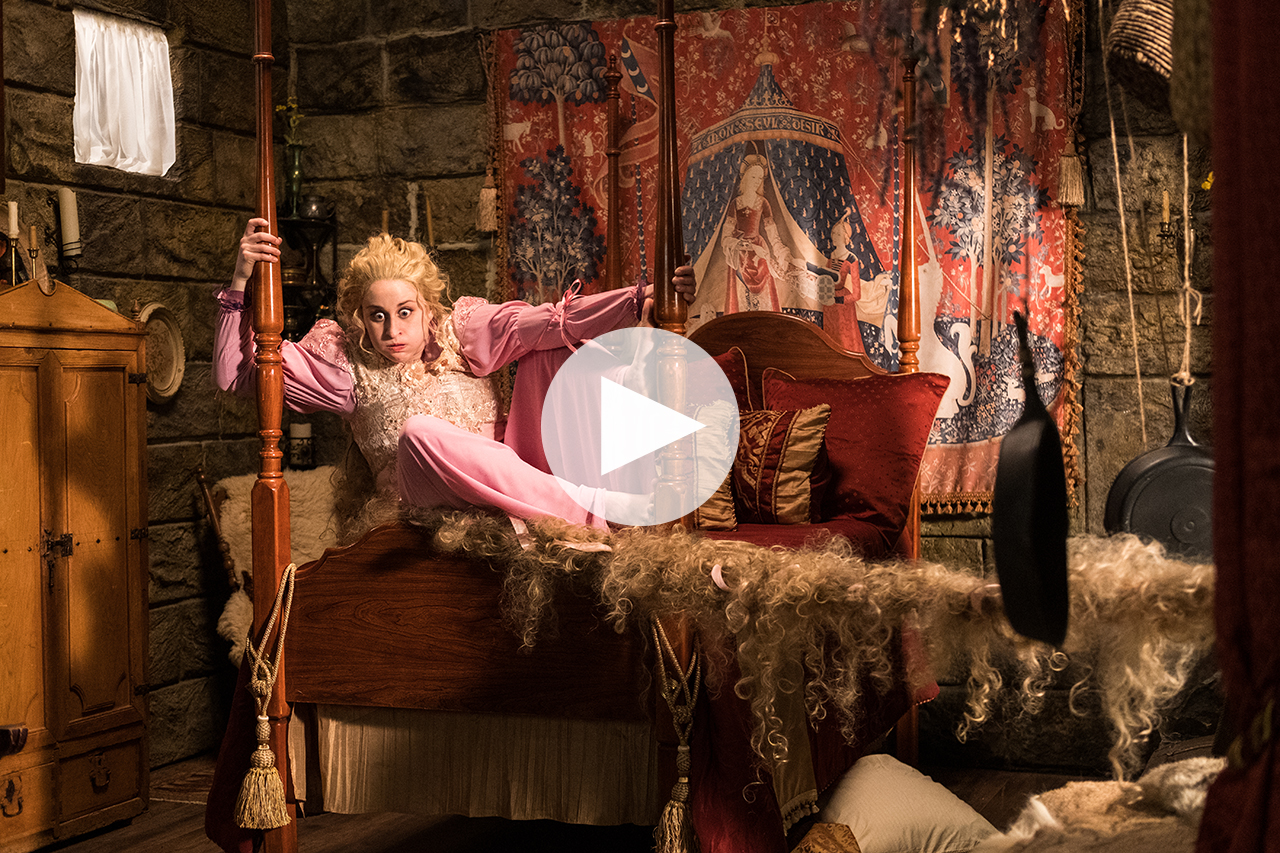 Follow Studio C on Social Media!
It's time to get into the Season 10 spirit! Follow Studio C on Facebook, Instagram, and Twitter for exclusive content and an inside look at the show. If you liked this "getting to know you" post, check back next week to meet Studio C's Matthew!