Relative Race Season 3: Meet the Teams!
INTRODUCING THE SEASON 3 RELATIVE RACE CONTESTANTS!
With a new season comes new cities, new challenges, new family, and new contestants! To prep you for the premiere of Season 3 of Relative Race we wanted to give you a small taste of the people you'll be watching trek across the country to meet new relatives.
And while you'll get to know them much better once their race begins, we're excited to briefly introduce the Season 3, Relative Race teams!
TEAM GREEN: JAMIE GRACE AND MORGAN
Meet Jamie Grace and Morgan from Los Angeles, CA. If you know and love these sisters from their YouTube channel, you're going to love watching them race across the country to find their relatives.
Both girls are in search of family members that have similar interests and talents as them. They would also love to use the prize money to help their mom pay for a serious medical condition.
Find out more about Team Green RIGHT HERE.
TEAM RED: TROY AND NICOLE
Meet Troy and Nicole Hitt from Humble, TX. They met after Troy served in the Airforce, and have been married for 13 years. Together, they have 4 kids, 6 animals, and own a crossfit gym.
Troy is hoping to find answers about his biological dad that he hasn't seen since he was 5 years old.
Find out more about Team Red RIGHT HERE.
TEAM BLUE: MICHAEL AND DYLAN
Meet the father-son duo, Michael and Dylan Anderson from Concord, NC. Michael is a professional photographer and Dylan, his son, works right along side him.
Michael was adopted at birth and is hoping to connect with relatives from his biological family.
Find out more about Team Blue RIGHT HERE.
TEAM BLACK: REBECCA AND JOHN
Meet Rebecca and John Hoyt from Mcallen, TX. Rebecca is a stay-at-home mom to their 3 year old daughter, while John works as a U.S. border patrol agent.
Rebecca's mom died when she was 2 years old. She is hoping to meet relatives on her mom's side of the family.
Find out more about Team Black RIGHT HERE.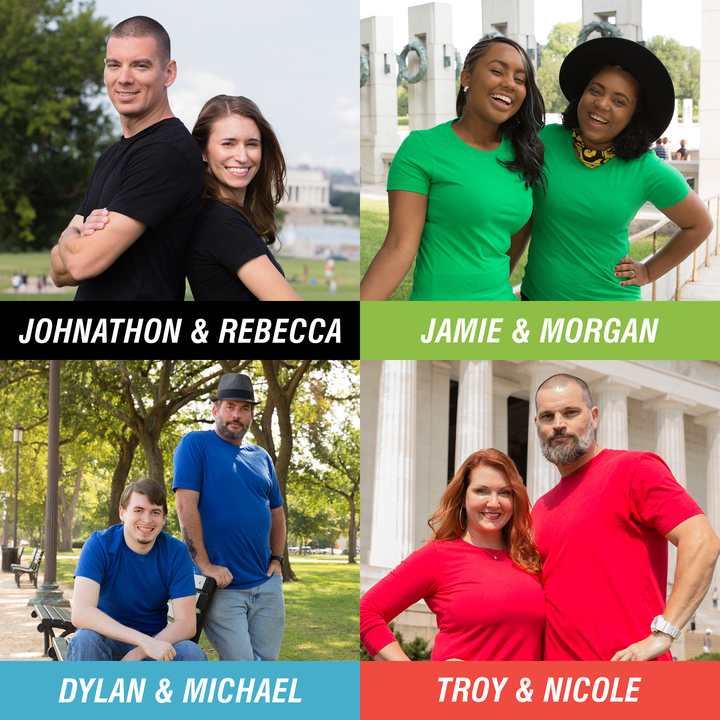 We can't wait for this new season of Relative Race! We can't tell you a whole lot, but we can tell you this–be sure to have the tissue box close!
Don't forget to check back here for the premiere date and for more details about the contestants!