Grace Notes: True/False with Elaine Bradley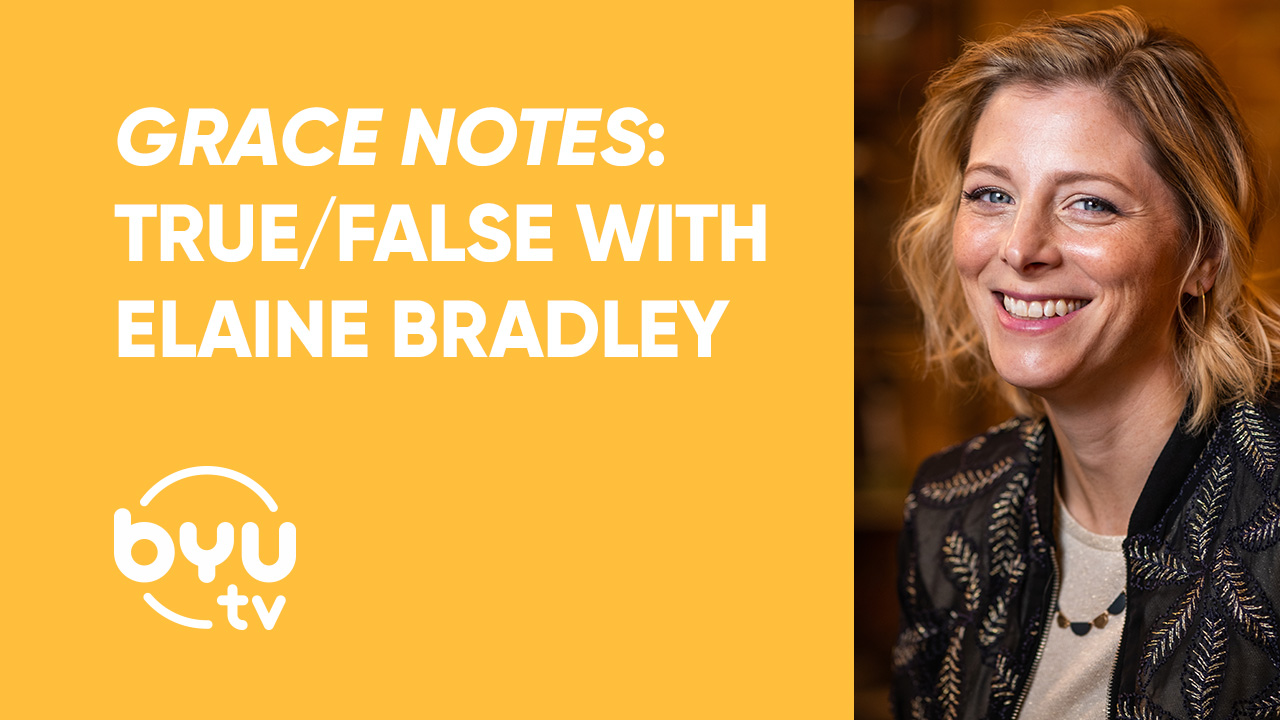 True/False with Elaine Bradley
As host of Grace Notes, award-winning music artist Elaine Bradley knows her stuff—both musical and otherwise. But how well do you know her?
Tune in to the true/false challenge below to learn more fun facts about this stellar drummer.
BYUtv: Pineapple belongs on pizza.
Elaine: Not for me. Pineapple does not belong on pizza for me. False. But I don't judge others for whom that question answers true.
BYUtv: It's okay to wear shoes in the house.
Elaine: It is never okay to wear your shoes in the house unless somebody doesn't care about their house, which would not be me. So, false. It is never okay. Don't wear your shoes in my house.
BYUtv: Going for a jog is enjoyable.
Elaine: You know, going for a jog used to be enjoyable for me until I had children. You'll know what I mean, mothers.
BYUtv: Dogs are better than cats.
Elaine: Dogs are better than cats, but they're not better than humans. And they're not better than anything else, because I don't like animals. Heartless.
BYUtv: Naps are a waste of time.
Elaine: Naps are not a waste of time, but I am not a good napper. At all. My husband's a good napper, and I get really upset because he'll just close his eyes for 20 seconds, maybe 20 minutes, and he'll be like, okay. And I'll be like, I'm still tired from last night. And then if I do nap, I wake up like a zombie, and I feel like all my limbs are 30 pounds heavier. And it never goes away until it's midnight, and then I want to stay up. Naps aren't good for me.
BYUtv: Oatmeal-raisin cookies are tasty.
Elaine: Oatmeal-raisin cookies. No, they're not tasty. They're fine, like if I'm desperate for a cookie, and someone handed me one of those, and I were desperate enough, I might eat it. But it also might still not be worth the calories. So, I guess no, they're not worth it.
BYUtv: Hair should be washed every day.
Elaine: Hair should not be washed every day. It shouldn't. And I sweat every day, and I still don't wash my hair every day.
BYUtv: Diamonds are a girl's best friend.
Elaine: No, diamonds are not a girl's best. No. How sad and pathetic of a life does a woman have that diamonds are her best friend? What a vapid, empty, pathetic existence. But no judgment.
BYUtv: Butter should be kept in the fridge.
Elaine: Yes and no. Butter should be kept in the fridge, except for the one butter that's in the butter tray. That should be kept out for spreading, because no one wants to spread fridge-hardened butter onto a piece of toast. People might say, "But the toast is hot." But it won't be once you put the cold butter on it. And then you're still going to have clumps. And then you're going to have to wait to eat your breakfast. No.
BYUtv: Drums are the best instrument in the world.
Elaine: Drums are the worst—absolutely hands down. I would rather hear a piccolo. Or an oboe. Drums are the worst.
BYUtv: Grace Notes is the best show on BYUtv.
Elaine: Grace Notes is the best show on BYUtv. See for yourself, you should watch it, because you won't know if it's the best unless you try it. Try it.
Watch Grace Notes
Catch Elaine every Sunday at 12 ET | 9 PT on BYUtv. Stream Grace Notes Season 1 for free in the BYUtv app!