WELCOME TO A NEW WEEK, CLASS!
We know…there are few things that are worse than Monday mornings, BUT good thing there's nothing better than Studio C Q&A's, self-portraits, and "Aww Yeah" girl!
Today, we're brightening up your day by introducing you to Adam. We hope you love him as much as we do.
And if you're experiencing the Monday morning blues more than usual today, we suggest checking out Jason, Jeremy, and Natalie's introductions too!
HI, ADAM! TELL US A LITTLE BIT ABOUT YOURSELF.
What is your full name? Adam Michael Berg
When is your birthday? 8/16/88
Do you have any pets? What kind? YES! A malti-poo named Mycroft. He's the best!!
What was the last book you read? The Power of Moments
What is your favorite food(s)? Potstickers!
Do you have any brothers or sisters? 1 brother, 2 sisters
Are you the oldest, youngest, middle, or only child? Youngest but I have a twin sister
How do you spend your free time? Napping, Working out, gaming, rock climbing, writing, hanging with my dog
Which sports do you like? Volleyball
What do you want to be when you grow up? A writer
What is something you are afraid of? Snakes
What school subject is your favorite? Spanish
What school subject is your least favorite? Math
Who has been your favorite teacher? Senorita Taylor
Is there anything else you would like to share with us? No.
CAN YOU PLEASE DRAW A SELF PORTRAIT FOR US?
This just gets an A+ all around. Nice work, Adam!
SKETCH US A PICTURE OF YOUR FAVORITE SKETCH!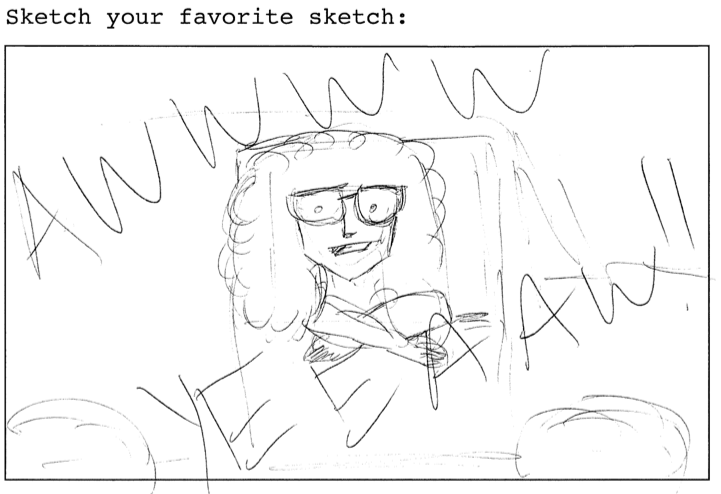 It's a little scribbley for our taste, BUT we can tell what sketch he's referring to, so….B+!
Check out Adam's favorite sketch, "Aww Yeah!"
TIME TO GO!
Well, kids - that's it for today! We hope this made your Monday brighter. Be sure to come back next week for more Q&A's, sketches, and Studio C clips!