Tricked: Interview with Eric
Get to Know Eric Leclerc
A magician never tells his secrets! Or does he? In this short interview video, world-famous Tricked magician Eric Leclerc answers BYUtv's questions and spills the beans on his life and career.
Does he give the answers straight? Or is it all just another trick? Find out below!
BYUtv: Describe yourself in five words.
Eric: Describe myself in five words . . . Happy, magical, outgoing. Did I say workaholic? And lonely.
BYUtv: What was your first magic trick?
Eric: When I was nine years old, I got a magic kit under the Christmas tree, and that literally changed my life. It was the vanishing silk trick, which I still do to open my shows to this day. Fun fact, people! The instructions said, no matter what, don't tell people how it's done. The first question my mom asked me was, how did you do it? She was like, "No, you gotta tell mom." I was like, "No, a magician never tells his secret."
BYUtv: Tell us three totally random facts.
Eric: Three totally random facts: I am obsessed with green olives—I love green olives. Can somebody bring some green olives? I'm addicted to The Office. In high school, I convinced my guidance counselor to let me job shadow a magician, and I actually got credits for being a magician in high school.
BYUtv: What do you like to do in your free time?
Eric: Besides magic, it's a tough one. Magic's my life. I love video editing. That's actually my new passion.
BYUtv: How do you come up with new magic tricks?
Eric: For the show Tricked, what we do is we do location picks. So the way I do it is I call my three magician friends, and we come over, have pizza. So it's like, "Okay, what can we do with a watch or a ring? How can we make their blood bubble and fix the situation with magic?" It's such a fun process.
BYUtv: How long do you practice a trick before it's ready?
Eric: For this show, it's a little embarrassing to admit. I don't want any magicians to hear this, but we practice, I practice, maybe an hour with the trick, and it should be like ten or fifteen hours. So it's very stressful, but the final product always comes out perfect. I think.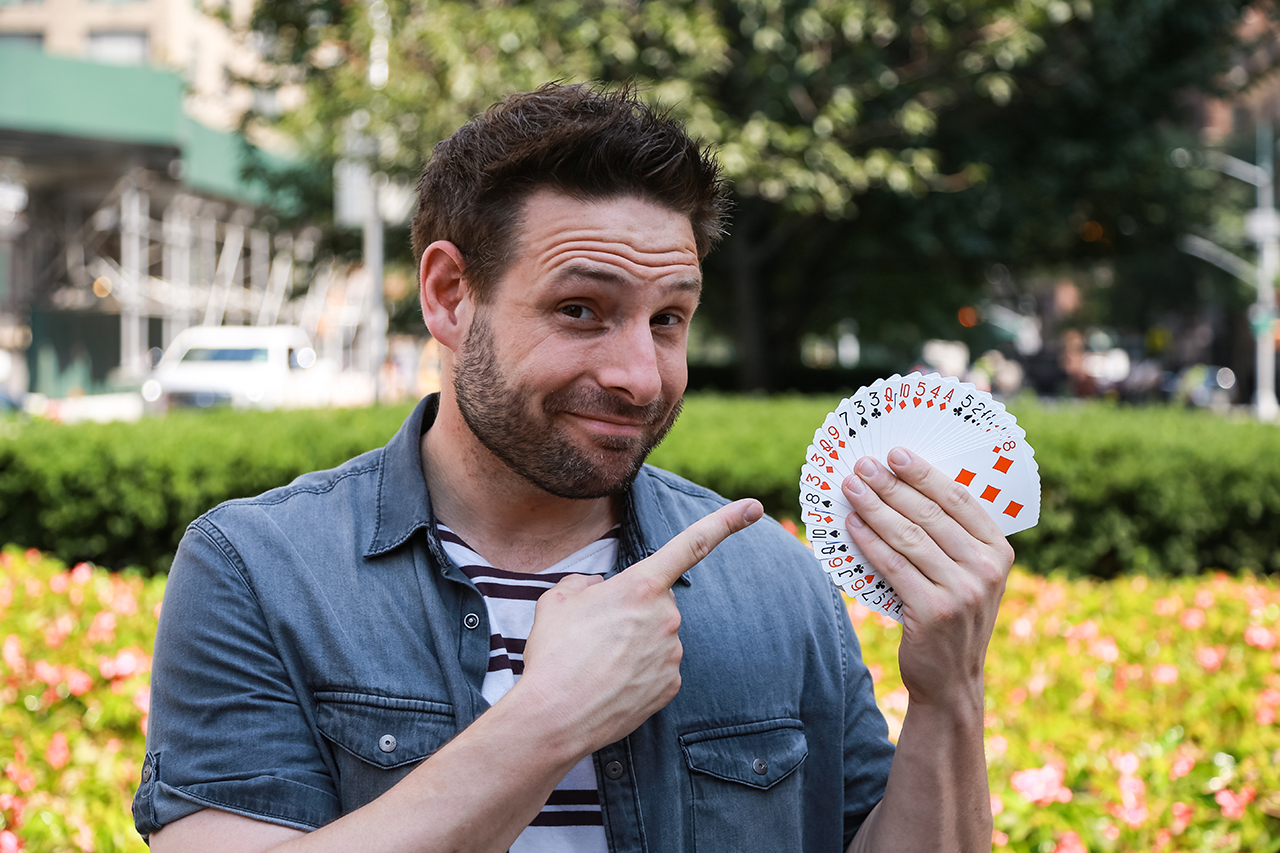 BYUtv: Has a trick ever gone wrong?
Eric: As magicians, we have the advantage of our spectators not knowing what's about to happen. So when a trick goes wrong, an amateur would be like, "Uh, oh—let me—hold on. Can I start over? Oh, that didn't work," and walk away. A professional would just use it and kind of leverage that "mess up" to make the trick even more amazing.
BYUtv: What advice would you give to aspiring magicians?
Eric: Here's the number one piece of advice I would give to an aspiring magician: I would say, don't listen to the adults that tell you you can't do this for a living. I was told repetitively when I was a kid that you can't do magic. You need something to fall back on. But I knew if I had something to fall back on, I probably would have. Don't take yourself too seriously. Practice and follow your dreams.
Tricked Season 3 Coming September 30th at 7:30 ET | 4:30 PT!!!
Prepare to have your mind blown on September 30th at 7:30 ET | 4:30 PT when Tricked Season 3 premieres! Eric is back with a whole new set of dazzling and dumbfounding tricks that will leave your whole family with jaws on the floor. You won't want to miss the magic!
Follow Tricked on Social Media
Don't miss out on a second of fun! Follow Tricked on Facebook or check out #TrickedTV on Twitter and Instagram.