Studio C Season 10: Getting to Know Jessica
Meet Jessica
Studio C Season 10 is out! But we're not done introducing you to our fantastically funny cast members. You've met April, Arvin, Austin, Dalton, Garet, and Ike. Now it's time to meet Jessica Drolet!
Name: Jessica Drolet; most people call me Jess, my mom calls me Jessie, my best friend's nickname for me is Barb, and my Aunt Sandy and Uncle Curt call me Jessie Lynn.
Birthday: 6/14/none of ur dang business
Where you're from: Quebec City, Canada (my first language is French)
—Moi
The last book you read: Steve Martin's Born Standing Up: A Comic's Life (I actually listened to the audiobook because one of my favorite things to do is go on night walks and listen to music or an audiobook).
If you could be any character in a movie, it would be: Any character portrayed by Catherine O'Hara or Juliette Lewis (Natural Born Killers—are you kidding me).
The color you wear the most is: black
—Me and my brother Patrick
Your favorite memory with a cast member is: I really enjoy our weekly Bachelor or Bachelorette viewings at someone's apartment.
Name 5 things you do in your free time: Cuddle with my dog Molly, take really long walks, Zumba and aqua Zumba classes at the Rec Center, watch reality shows like Great British Baking Show and Real Housewives of Beverly Hills (sorry not sorry), drink Roobios tea (it's caffeine-free) with a piece (or three) of 78% dark chocolate.
—Karen Carpenter bit at The Pack Theatre in Hollywood
The one food you could eat every day for the rest of your life is: Sushi (close contenders: eggs Benedict, the frosting part of a chocolate cake, and the cake)
What type of shoe describes your personality and why? I wear dark, regular, flat Sketchers that let your feet breathe—I guess what it says about me is I ain't got time to be uncomfortable.
—Performing with my sketch team Tantrum at The Pack Theatre in Hollywood
Tell us about your most memorable first (first kiss, first day of school, first comedy show, etc.): My first day in a modern dance class I was actually stopped midway through class by the teacher. She asked me what my dance experience was. I said this was my first modern dance class. To that she replied: then what are you doing in my advanced class. At which point she "politely" escorted me to a beginners' class down the hall.
You memorize your lines for a sketch by: finding the character, understanding the concepts of the sketch, reading the sketch over and over again, recording the other person's part and rehearsing with the recording, and stress-eating. I will literally go over my sketches until right before I go on stage because I find new moments to play every time I read and rehearse it.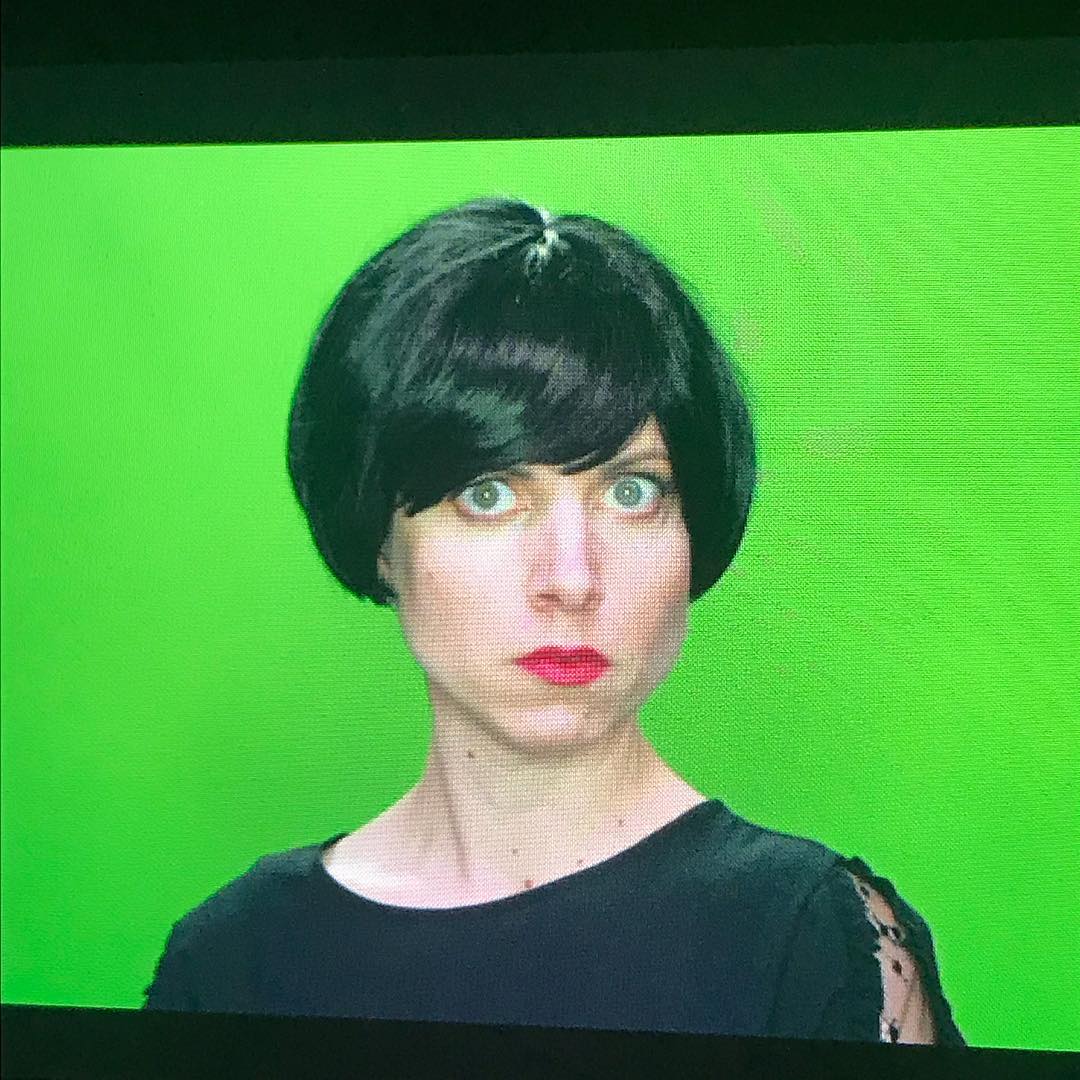 —Portraying Edith Piaff
Where were you when you found out you made the Studio C cast? I was in my office in the apartment building I managed in Sherman Oaks.
What are you most excited for in Season 10? I'm excited to get the fans' feedback and reactions to our crazy brain farts (I mean sketches).
The one piece of advice you'd give to Studio C fans is: Reduce, reuse and recycle. Also, adopt don't shop! I guess that's not really advice and more of an order.
—A self-portrait
Watch Season 10 of Studio C
Episode 2 comes out tonight! Watch Episode 1 HERE.
Follow Studio C on Social Media!
It's time to get in the Season 10 spirit! Follow Studio C on Facebook, Instagram, and Twitter for exclusive content and an inside look at the show. If you liked this "getting to know you" post, check back next week to meet Studio C's Jessica!