Fixers: Getting to Know Ariel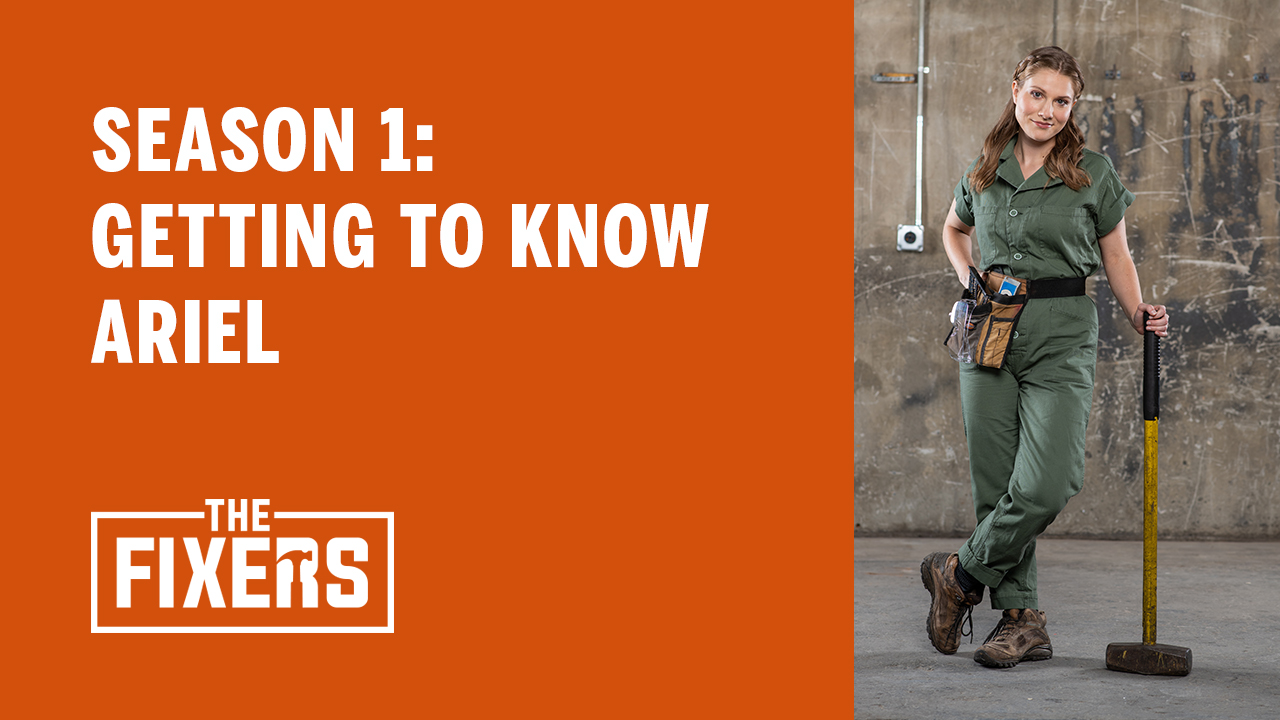 Getting to Know Ariel Myren
She's on a mission to fix the world—one construction project at a time! Meet Ariel Myren of The Fixers.
Learn how she got started fixing and find out what she would recommend to those looking to do the same in her interview below.
Ariel: Hey, I'm Ariel Myren from BYUtv's The Fixers, and you can find me building things all around the world.
BYUtv: Tell us three random things about yourself.
Ariel: Three very random things about myself. I used to perform as a clown; that was a couple years of my life. I did some clowning. Let me see . . . I've played soccer pretty much my whole life. It's one of my biggest passions. And, uh, I love power tools. If I can use power tools, as opposed to some random hand tools, I'm very happy.
BYUtv: If you could spend a day doing whatever you wanted, what would you do?
Ariel: If I could spend one day doing whatever I wanted, the funny thing is that I'd do what I'm doing on the show. I mean, I'm traveling the world, I'm helping people. I can't imagine anything better than that. Honestly.
BYUtv: Tell us about the show.
Ariel: The show is simultaneously the hardest thing I've ever done and the greatest thing I've ever done. We travel the world helping people in need who are amazing people who've opened up their lives to us, opened up their homes to us, and whatever they want, we just help them build it. We come in, we grab volunteers, and we are doing crazy stuff in places that a lot of people don't get to go, using all our building, woodworking, metal shop tools in the best way we possibly could, which is to help people, and it's amazing.
BYUtv: What's one talent that you wish you had?
Ariel: It's so random, but I always wished I could play piano. It's one thing I wish I could do.
BYUtv: What is a typical day on set like for you?
Ariel: We wake up at 5:00 in the morning, eat a quick breakfast, head to the build site. And we have a little short meeting—what we gotta do for the day—we're talking, like, a five-minute meeting at the most—and we just get to work. And I'm talking we work nonstop till the sun goes down, sometimes longer. So definitely longer than 12 hour days most days, just building nonstop. And then we go to bed, and we hope we get more than five hours of sleep, and we do it all again.
BYUtv: What has been one of your favorite memories from the show?
Ariel: One of my favorite memories was in Nicaragua. I mean, we were just having the longest days, 100-degree weather, and I kind of just had to take a moment to just sit down, because I'd been going all day. And I was just kind of really struggling. In that moment, this huge group of little girls that had been following me around helping me all week—and I was teaching them to use a drill and all kinds of stuff—they just gathered around me, and I could hear them in Spanish being like, "I think she just needs us to sit with her right now. Yeah, like, let's just sit and be there for her." And I mean, that was one of the greatest things that ever happened to me. I just felt so joined with them. They were amazing.
BYUtv: What is your life motto?
Ariel: My life motto is kindness first. I think that's the most important thing.
BYUtv: What got you into construction?
Ariel: I have two answers to that. I got into construction first when I was like, seven years old, and my grandpa showed me around his woodshop and taught me everything he did. I'd always kind of shadow him. And then in high school I did this engineering course that took up half the day. And we'd have contests like who could build the best catapult, the best boomerang. It let us loose in the woodshop, and I got to learn things on my own. That really sparked a passion in me.
BYUtv: What's the worst injury you got on the show?
Ariel: I mean, I've gone down from heatstroke, and that was the worst thing by far. But I did, in Haiti, we were walking—I was carrying a big piece of metal, and there was a huge hole in the ground that I hadn't seen. I dropped the metal on myself, just like, cut all down my leg, a big bruise. And I told the nurse, "Don't worry about it, I'm fine." She was like, "Let me see." And it was just down my thigh. And I was like, "Fair enough. Clean it out. We're good." Back to work.
BYUtv: Describe the show in one word.
Ariel: Describe the show in one word? Work.
BYUtv: What advice do you have for people trying to learn fix-it skills?
Ariel: Yeah, I would say, if you want to learn fix-it skills, you can do it. Everybody can do it, you know? It's just something you've got to try. To get started, look up DIY videos on YouTube. If you know someone who does it, ask them to teach you hands-on. It's not rocket science. I think people get really overwhelmed, especially women, young girls, but like, it's—you know—it's just something you learn, and you practice over time, and it's a really good skill for everyone to have. So I would say just dive in.
BYUtv: What will people like about The Fixers?
Ariel: I think people will love the show because it's unlike anything else that's on TV. It's a travel show, it's a building show, it's a show about human connections, and it's the most incredible people in the world. They've started these organizations, helping to change people's lives. And it's just impactful. It's also fun. And it's exciting, and everyone should watch it.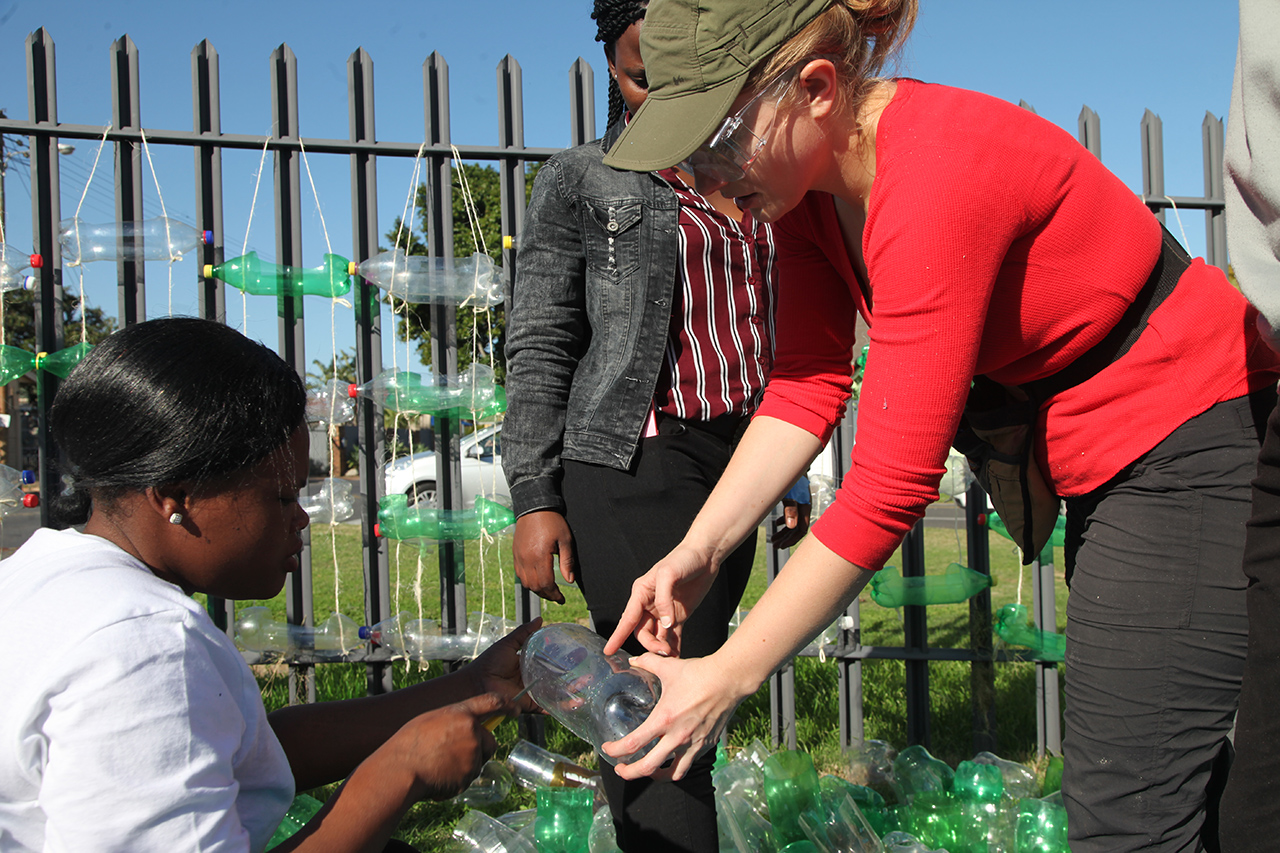 Watch The Fixers
The team gets to work changing the world one build at a time, starting in Nicaragua. Watch Episode 1 HERE.