Cougar Sports: BYU Basketball vs Utah State and Utah
Welcome back, Cougar fans! Get ready for another week of BYU sports! From rivalry games in basketball and volleyball to new episodes of BYU Sport's Nation—there's a lot coming this week for you to get pumped up and dressed in blue and white for!
MEN'S BASKETBALL
After three intense games last week, the BYU men's basketball team is taking on two in-state rivals this week: Utah State and the University of Utah! So rise and shout and go root for our Cougars!
Wednesday, December 5
Saturday, December 8
Don't forget, you can also listen to the games on BYU Radio or as a podcast on iTunes!
WOMEN'S BASKETBALL
The BYU women's basketball team also has an exciting game this week against the University of Utah! Don't miss your chance to cheer our talented team onto victory!
Saturday, December 8
WOMEN'S VOLLEYBALL
The BYU women's volleyball team is fighting fiercely for their spot in the NCAA Regional Final—and they are just a game away from making that a reality! Go to the Smith Fieldhouse this week to shout loud and proud for our Cougars as they take on Florida!
Friday, December 7
BYU BASKETBALL WITH DAVE ROSE
This week, we're welcoming back the coach's show BYU Basketball with Dave Rose! Join BYU men's basketball coach, Dave Rose, on BYU Basketball with Dave Rose every Tuesday night at 6 pm MT to get the inside scoop on all things Cougar basketball!
Don't miss tonight's episode at 6 pm MT! You can also listen to the broadcast here on BYUradio or catch the podcast here on iTunes! Â
BYU SPORTS NATION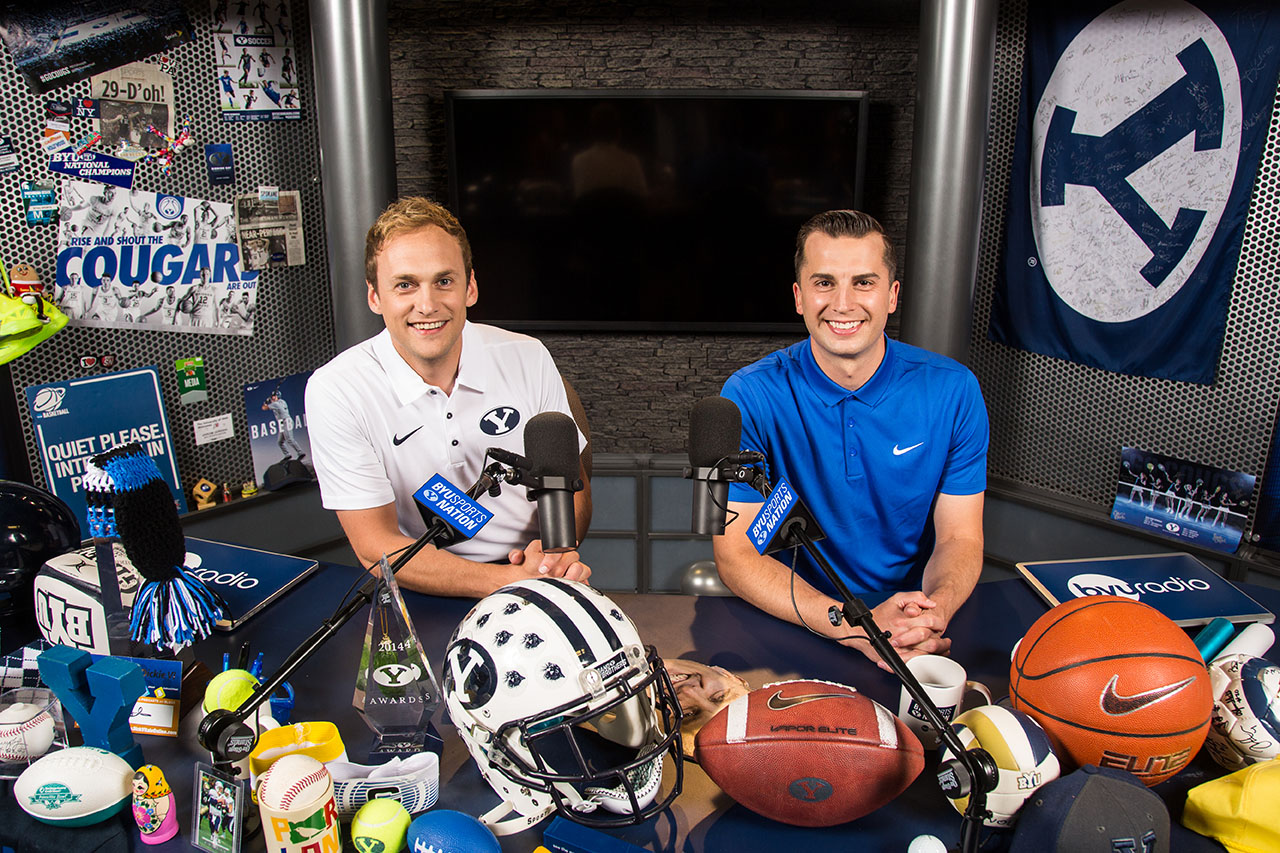 Join BYU Sports Nation hosts, Spencer Linton and Jarom Jordan, as they give you all the need-to-know details of BYU sports every weekday at 10:00 am on BYUtv! The show is also broadcast on BYUradio, on iTunes podcasts, and on Spotify.
You can also the conversation on Twitter or on the BYU Sports Nation Facebook page.
Monday–Friday
COORDINATORS' CORNER

Check out Coordinators' Corner this week with a new episode broadcast on BYUtv and BYU Radio. The feed is also available as podcasts both iTunes and Spotify. Tune in every Monday at 11:00 am MT for a chance to check out BYU football with the offensive, defensive, and special teams coordinators!
Catch this week's episode on Monday, December 10 at 11:00 am MT with host, Greg Wrubell.
BEHIND THE MIC
Wednesday, December 5