September Premieres on BYUtv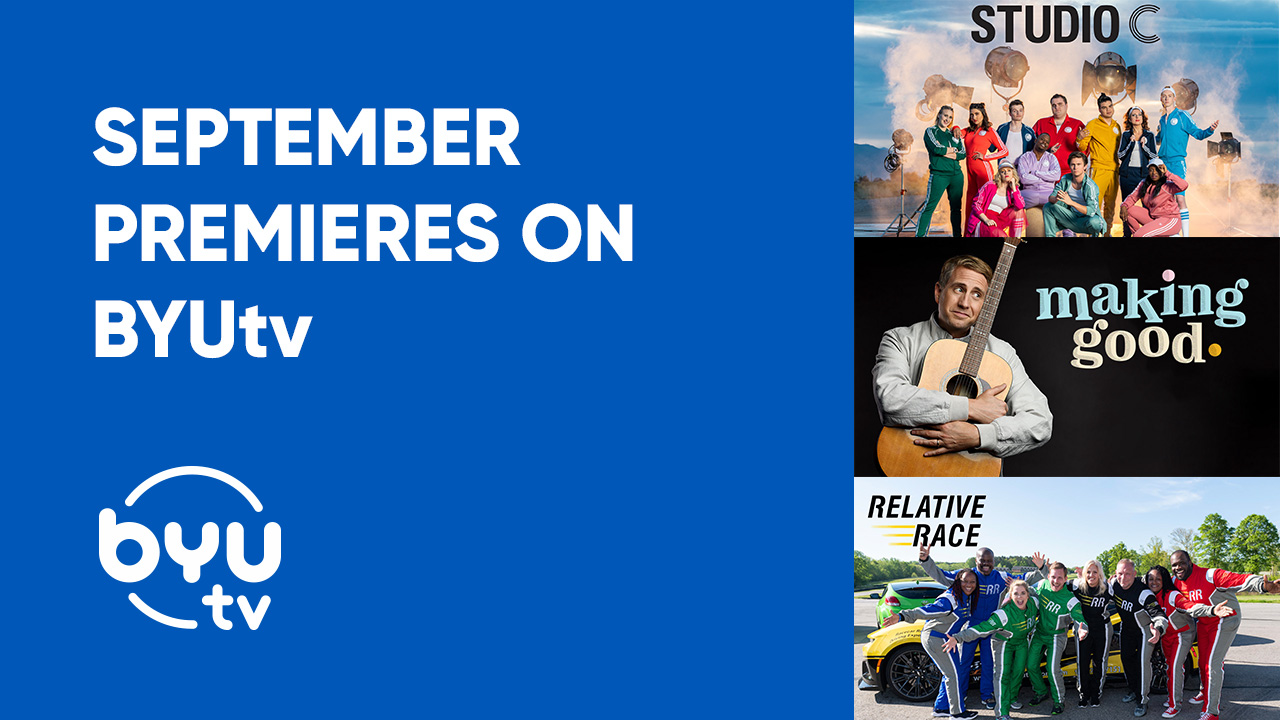 Did Someone Say Super September?
School got you down? Stuck in a routine that's just plain mean? No fear! We've got eleven reasons why this September will be the greatest month yet! So spruce up your happiness level and take a glance at all the terrific premieres coming your way.
Dinner Takes All Season 2 Coming September 10th at 7 ET | 4 PT!!!
Watch two new families go head-to-head, cooking dinners at whirlwind speeds and competing in whacky games to earn their team points towards the $10,000 grand prize! See how the judges do at the games here.
Battle of the Ages Season 2 Coming September 10th at 8 ET | 5 PT!!!
See this comedic game show pit two multi-generational family teams against each other in mental and physical challenges! And give your own trivia knowledge a test with this Battle of the Ages quiz.
The Fixers Coming September 11th at 7 ET | 4 PT!!!
Learn how The Fixers team improves an orphanage for struggling teenagers in Mexico! Find out more about the team here.
Making Good Coming September 11th at 8:30 ET | 5:30 PT!!!
Join host Kirby Heyborne as he travels to San Francisco to volunteer at a restaurant run entirely by at-risk youth. Catch an interview with Kirby here!
The Parent Trip coming September 19th at 8 ET | 5 PT!!!
90210 star Jennie Garth and her daughter Luca are plunging into the heart of Alaska on a death-defying adventure. You won't want to miss this thrilling first episode!
Hetty Feather Season 5 Coming September 22nd at 7 ET | 4 PT!!!
Hetty and the gang play a prank on Sheila with disastrous results. Watch it all go down on Sunday the 22nd!
Dwight in Shining Armor Season 2 Coming September 22nd at 7:30 ET | 4:30 PT!!!
Dwight and his friends are back for another round of monster hunting and villain bashing. But faced with a new type of challenge, our intrepid heroes may end up losing it all. Learn more about the characters here.
Relative Race Season 6 Coming September 22nd at 8 ET | 5 PT!!!
The "race" in Relative Race takes on a whole new meaning at a track in Virginia as the competition heats up! Get ready for the big event by learning which team you're on here.
Show Offs Season 2 Coming September 30th at 7 ET | 4 PT!!!
In this insanely funny premiere episode, the Show Offs improvise a Golden Age musical in which two swindlers have a change of heart after trying to replace authentic cheer with artificial joy. Meet our talented comedians here.
Tricked Season 3 Coming September 30th at 7:30 ET | 4:30 PT!!!
World-famous magician Eric Leclerc goes undercover with hidden cameras to pull mind-bending pranks on unsuspecting people. Prepare for a new season of WOW by learning your own magic tricks from Eric himself!
Studio C Season 10 Coming September 30th at 8 ET | 5 PT!!!
Find out how Dalton and Tori recruit the cast into doing a Hamilton parody and why exactly the fans go crazy for Dalton Abbey. It's time for a whole new season of laughter till you cry! Start meeting the new cast here.
Connect with BYUtv
Follow BYUtv on Facebook, Instagram, and Twitter for updates on all your favorite shows! Download the BYUtv app or tune in online to watch any show you want anywhere you want, right here with BYUtv.