Christmas with the Mormon Tabernacle Choir Featuring Sutton Foster: An Interview with a Choir Member
Christmas with the Mormon Tabernacle Choir
On Thursday, December 20th, at 6pm MT, join us on BYUtv for a Christmas concert with the Mormon Tabernacle Choir featuring Sutton Foster and Hugh Bonneville.
This special musical production celebrates the birth of Christ and is the perfect way to bring the spirit of Christmas into your home.
An Interview with Choir Member, Marcia Davis
This annual Christmas concert is a beautifully detailed production full of talent and professionalism and we wanted to know what it's like to be part of such a spectacular production!
So, we interviewed one of the choir members, Marcia Davis, to get a sneak peek at what goes on behind the scenes.
Find out what it was like working with Sutton, how often the choir has to rehearse, fun facts about the choir, and more below:
BYUtv: Tell us about the week that surrounds the concert. How often do you practice? Is it a crazier week than normal?
Marcia: Concert week is typically pretty exciting and very demanding at the same time. We rehearse Tuesday and Wednesday evenings with a dress rehearsal/concert on Thursday evening and concerts on both Friday and Saturday evenings. Saturday afternoon is also a full recording session of the entire concert. It's challenging to be back in our seats by 7:20 on Sunday morning but the show (Music and the Spoken Word) must always go on! To say the week is crazy is probably a bit of an understatement but it's also very rewarding and well worth the effort.
BYUtv: What is it like singing with professionals from all over the world, year after year?
Marcia: Each concert is just a little different considering the variety of guest artists that perform with the choir. There's always a feeling of anticipation wondering what this particular artist's personality will be like and how it will all come together. It's a lot of fun to get to know them, see them in action, and witness their amazing talents, abilities, and professionalism first hand. We work hard and rehearsals are long and intense. However, we also have funny situations that pop up and great laughs along the way. Basically, by the end of the week, it feels like we've known each other for a long time and are close friends.
BYUtv: More specifically, tell us about your experience working with Sutton Foster.
Marcia: Working with Sutton Foster was a lot of fun! In addition to having a beautiful voice, she also has a sparkly personality, endless energy, and a very contagious smile. She kept us all laughing with her funny comments and spontaneous dance steps. Yet she also had a sweet, tender side that reflected deep feelings about her family and the spirit of Christmas. To see her in action up close and personal was a highlight!
BYUtv: How long have you been singing with the choir and how has the opportunity enriched your life?
Marcia: I started singing with the Tabernacle Choir at Temple Square in 2015. It has truly been an amazing experience that has changed my life in many ways. I absolutely love the music we sing and gain so much from the words and music constantly running through my mind. My family has benefited greatly from the increase in their exposure to great music as well. My teenage sons now love Handel's "Messiah" and often have it playing on their phones or in the car. The Tabernacle Choir has had and will continue to have a positive impact on the lives of millions of people around the world. It is a huge blessing to belong to such an organization as this!
BYUtv: What are 3 fun facts most people don't know about the choir?
Marcia: One question I'm often asked is how they determine who sits where in the choir loft. Sometimes I have a little fun answering that question but the truth is that it's a height thing--in general, the taller you are the higher you sit in the loft.
Another question I'm often asked is how we take care of all our dresses. Thankfully, we don't have to! There is a small army of support that makes it possible for the choir to do what it does. Part of that army is a group of women that takes care of all of the performance dresses. That's quite a feat considering that there are around 180 women in the choir and each has eight dresses. The wardrobe women are at every rehearsal, Music and Spoken Word broadcast, and concert to make sure that our dresses are clean and taken care of. They are dedicated, amazing women!
Another fact that not everyone knows is that there is a limit for the amount of time you can sing with the choir. The maximum time you are eligible to serve is twenty years or until age 60—whichever comes first.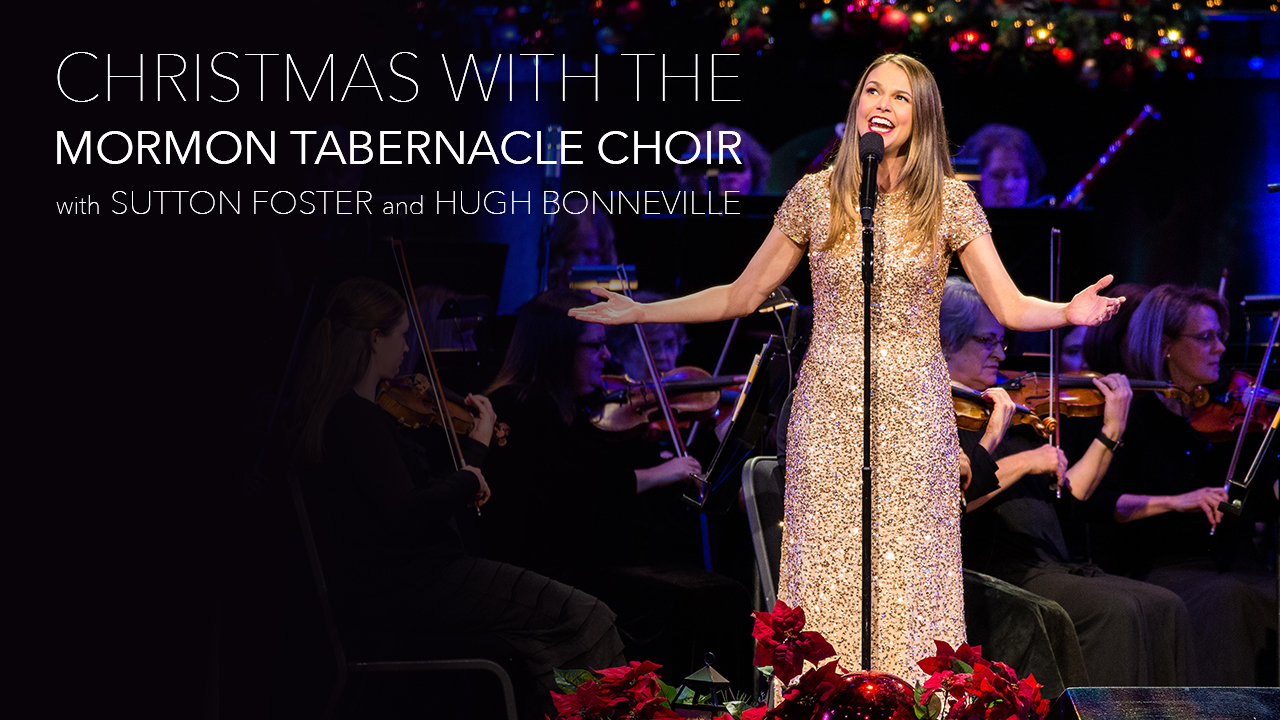 Don't Miss Christmas with the Mormon Tabernacle Choir Featuring Sutton Foster
Mark your calendars for Thursday, December 20th, at 6pm MT! This Christmas concert is one you won't want to miss.
Until then, check out these backstage videos with Sutton Foster: