COUGAR SPORTS: November 9, 2021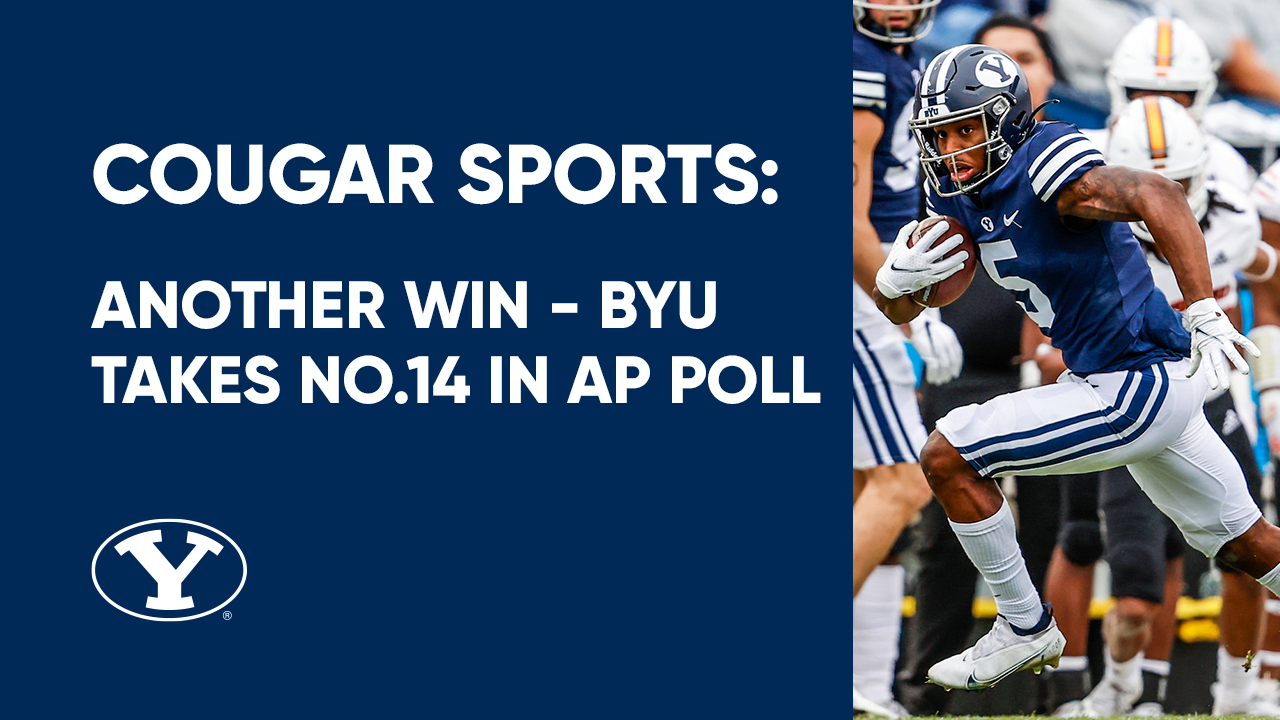 BYU FOOTBALL REACHES NO.14, AND WOMEN'S SOCCER TAKES WCC TITLE
It's a big week for BYU Sports—BYU Football jumped to No.14 in the AP and CFP polls, and the Women's Soccer team became co-champions of the WCC championship after beating Pepperdine in double overtime. Want to keep up to date with everything BYU Sports? Download the BYUtv app and stream your favorite sports shows: After Further Review, BYU Sports Nation, Countdown to Kickoff, and BYU Football with Kalani Sitake.
FOOTBALL
It was a senior day to remember. BYU debuted the Midnight Virgil uniform combination, and donned a military-honoring gameday outfit of camouflage and BYU blue, as they prepared to face Idaho State.
The Cougars ended the game victorious, with 59–14 on the scoreboard, and a few stellar plays to add to the history books. The play of the game goes to Keanu Hill, who scored a touchdown off a blocked punt, for the first time since 2004 at BYU. The touchdown was the second of the game for Hill, his first being in the second quarter.
The Cougars scored eight touchdowns all together, and a field goal by Justen Smith added points to the board as well. The high scoring game allowed BYU to rotate through the depth chart with all three quarterbacks having the opportunity to make plays, and a lot of younger players receiving time on the turf.
BYU has a bye this weekend as they prepare to face Georgia Southern and USC over the coming weeks. As the Cougs continue to prove themselves as a force to be reckoned with, talk of whether or not they'll be eligible for a New Years Six bowl game continues.
WOMEN'S SOCCER
The senior day memories just kept rolling in. In a double overtime battle, Cameron Tucker scored the game-winning goal for BYU after recovering a blocked shot by Pepperdine's goalkeeper. The score ended at 1–0 in favor of the Cougs who received a No. 4 seed and will host New Mexico this coming weekend.
WOMEN'S VOLLEYBALL
The Cougs were unbeatable yet again. The Women's Volleyball team had two away games last week, winning both matches with a 3-0 score. Gonzaga and Portland couldn't do enough to break their winning streak, putting BYU at No.5 in the country. BYU will play Loyola Marymount and Pepperdine this week.
BASKETBALL
BYU basketball kicked off its regular season this week with the women's game against the Lipscomb Bisons, and the men's against Cleveland State. The women won the night with a score of 81-58, and the men beat out Cleveland by ten points, with a 69-59 score. Women's hoops play Fresno State at the Marriott Center on Saturday, and the men play San Diego State at home this Friday night. Can't be there in person? Download the BYUtv app so you don't miss a thing!